Zum Lesezeichen hinzufügen
(nur auf Englisch)
If you enter the churches of Troyes, absolute temples of sacred arts, you will find dozens of masterpieces of the Sculpture of Champagne in the 16th century.
Troyes was a high class artistic centre between Italy, Flanders and Germany, and this is why we talk about a Beautiful 16th century of Troyes.
In the 21st century, the city of Troyes wishes to develop art in the city, and especially on the quays which now quite look like a little open-air museum.
Starting in 2011, the requalification led to the installation of contemporary sculptures punctuating now a bucolic walk along this ribbon of water which separates the city in two parts.
Therefore, in order to better unite the body and head of this champagne cork, to which the locals are especially attached, it all started with the installation of this heart, which seems to be inflated with helium. Placed on the edge of the canal, this delicate lace of stainless-steel playing with daylight lights up at nightfall, gets red, and thanks to technological wonders, starts to beat when someone gets close to it. It weights two tons, but it does not seem so heavy, because it looks so delicate.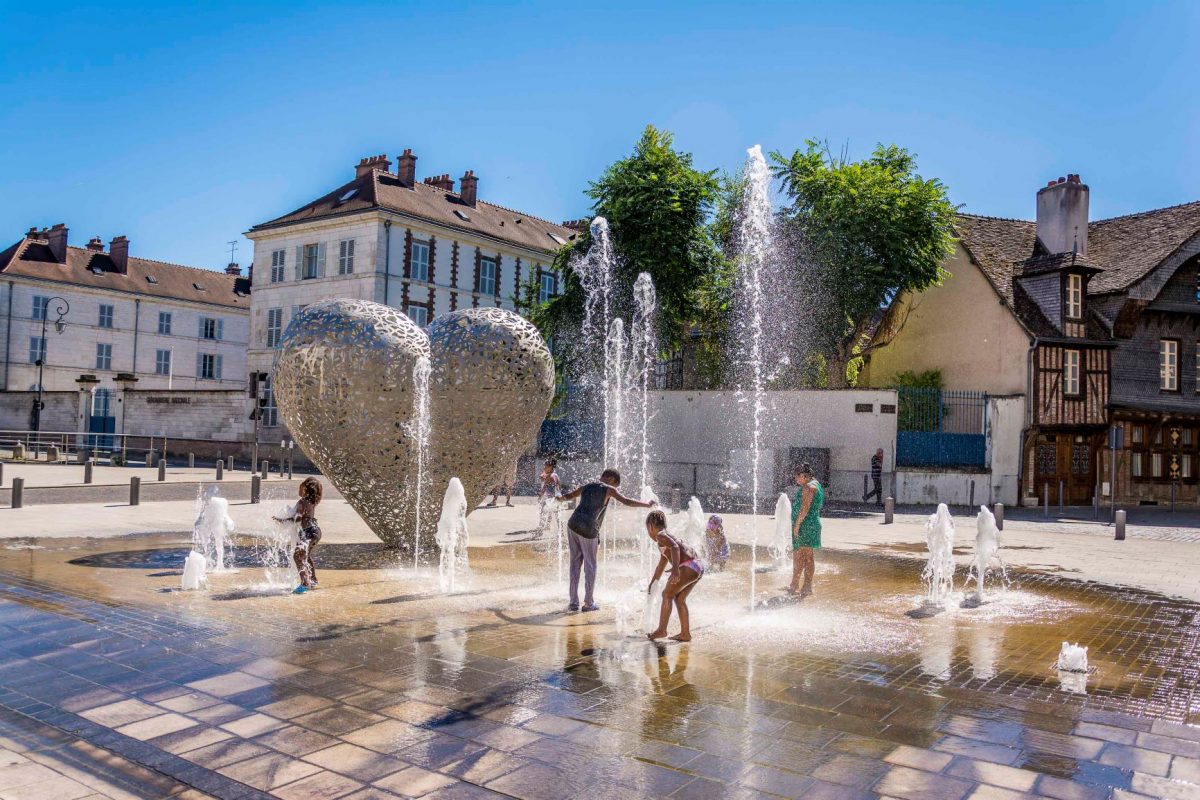 It is the work of Michèle and Thierry Kayo-Houël, two local artists who also have made the last sculpture installed in Troyes: a leaf, gently placed in front of the market hall.
The sculpture of these pretty ladies who, around the corner of a street, seem to call out to people, is also a great urban artwork.
Of course, I am thinking about Lili, the lady with a hat, a beautiful bronze sculpture of the Hungarian artist Andras Lapis. She is sitting on a bench, her thinking face under a hat, a History book about the Counts of Champagne in the hands. This artist has chosen the ladies in hats as a favourite thematic, and his art can be found in different cities around the world. People walking by are seduced by her beautiful silhouette on a human scale, and do not hesitate to pose next to her for a picture, or to give her some flowers.
A few meters away, there is a beautiful lady offering her lips to visitors. "The lady giving a kiss » looks a bit similar to the dancers of Degas. It is the work of Sjer Jacobs, a Dutch sculptor, who has reproduced « Sofia », one of his creations installed in Middelburg, in the Netherlands.
To finish, Tom Frantzen, a sculptor from Brussels of Flemish origin, made the two bronze sculptures, full of movement, that visitors enjoy very much for their light and humoristic style.
First there is the sculpture « Wait for me » on the bridge between rue Clemenceau and rue de la Cité, representing a little dog frightening some geese by chasing them. The little dog seems to be saying to them: « Wait for me so we can play! ».
A bit further on, on the banks of the Prefecture basin, the sculpture « The happy bunch » is remarkable: it showcases joyful and cheeky children playing, running and jumping in the water, with ducks, a penguin and a little dog.
These two emblematic works by the Belgian artist reflect his taste for a fantastic style, rather humoristic and full of imagination, and most of all his will to integrate his work into the environment lightly and with an "in motion" impression.
These contemporary sculptures are such a good idea, enhancing the attractivity of our new quays, and whose photos, shared on social medias, travel all around the world!
Publié le 30 Dezember 2020 par Sylvie